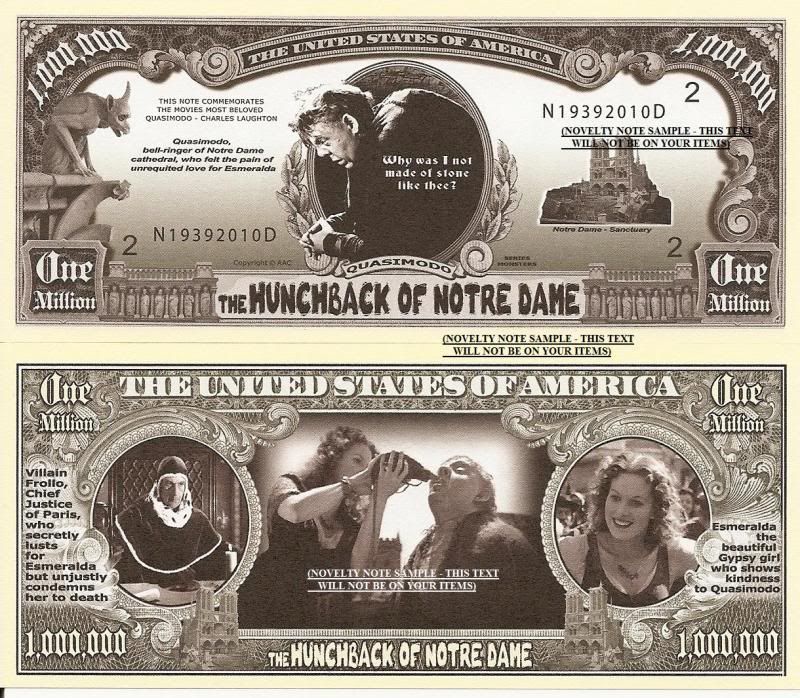 FOUR THE HUNCHBACK OF NOTRE DAME One Million Dollar Bills
Great care and attention to detail make these Bill's a HIGH QUALITY COLLECTABLE. They are also excellent novelty gifts for all Horror Movie fans. Perfect for framing or including with Greetings Cards.
We have a total of nine different Classic Horror Movie Bills, they are available individually or as a set of eighteen, you can see them all in our eBay shop.
The front of the Bill pictures QUASIMODO - THE HUNCHBACK OF NOTRE DAME with Why was I not made of stone like thee? printed across the picture. The Bills are numbered N19392010D. The following is also printed on the front, THIS NOTE COMMEMORATES THE MOVIES MOST BELOVED QUASIMODO - CHARLES LAUGHTON and has a small picture of Notre Dame Sanctuary.
Quasimodo bell-ringer of Notre Dame cathedral, who felt the pain of unrequited love for Esmeralda.
The back of the Bills have three pictures the first has Villain Frollo, Chief Justice of Paris, who secretly lusts for Esmeralda but unjustly condemns her to death. The second picture shows Esmeralda giving Quasimodo water. The third has Esmeralda the beautiful Gypsy girl who shows kindness to Quasimodo..
This is a Monster Series Bill.
The Bills are the same size as real American dollars and have quality printing on quality paper. They look great framed.
UK See below for postage details. I accept payment by PayPal, Cheque or Postal Order.
EUROPE See below for shipping details. I accept payment by PayPal in GBP£.
REST OF WORLD See below for shipping details. I accept payment by PayPal in GBP£.

Powered by eBay Turbo Lister