Homeopathic & Herbal Remedies
Chromium- 100 Capsules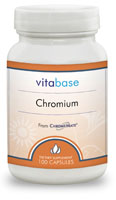 If you have ANY questions about any of the herbal products I sell, just ask. Your health is precious and you have a right to know about the many alternative options that are out there. Browse through all the herbal products I'm selling on CQout before deciding on which one(s) you want to purchase.
~*~*~*~*~*~*~*~*~*~*~*
I really would prefer if you pay with paypal. I am an established seller. Click on the button below to view my feedback at all of the auction/merchant sites and feel better knowing who you are dealing with.
~*~*~*~*~*~*~*~*~*~*~*
Quantity:100 Capsules
Description:
Chromium is at the heart of a biologically active complex called Glucose Tolerance Factor or GTF, which is responsible for potentiating (increasing) the action of insulin in the body. Insulin is a vital hormone responsible for transporting glucose inside cells and maintaining proper blood sugar and blood lipid (cholesterol) levels in the body. Chromium helps insulin metabolize fat, turn protein into muscle and convert sugar into energy. In fact, chromium-activated insulin increases the amount of blood sugar available for energy production nearly twenty-fold.
Serving Size:1 Capsule(s)
Suggested Use:As a dietary supplement, adults take one (1) capsule daily at mealtime, or as directed by a health care professional. Store in a cool, dry place and away from direct light.
What's on the Label:
Chromium (as polynicotinate)* 200 mcg 167%
Cautionary Note:Keep out of reach of children.
Please note that I do have a bigger bottle of Chromium in my shoppe. I say this incase if you need more capsules.
About Shipping:

Shipping is a flat rate of $4.50 for USA customers and $16 for international customers. You can purchase any amount of herbal products I'm selling on CQout and the shipping will only be $4.50 if you're in the USA or $16 everywhere else. The CQout site is not set up to recognize 'combined shipping'. You can wait until I send you the Paypal invoice if you're purchasing more than one herbal product from me.
Please note that there is no return or refund for any of the herbal products I'm selling on CQout.