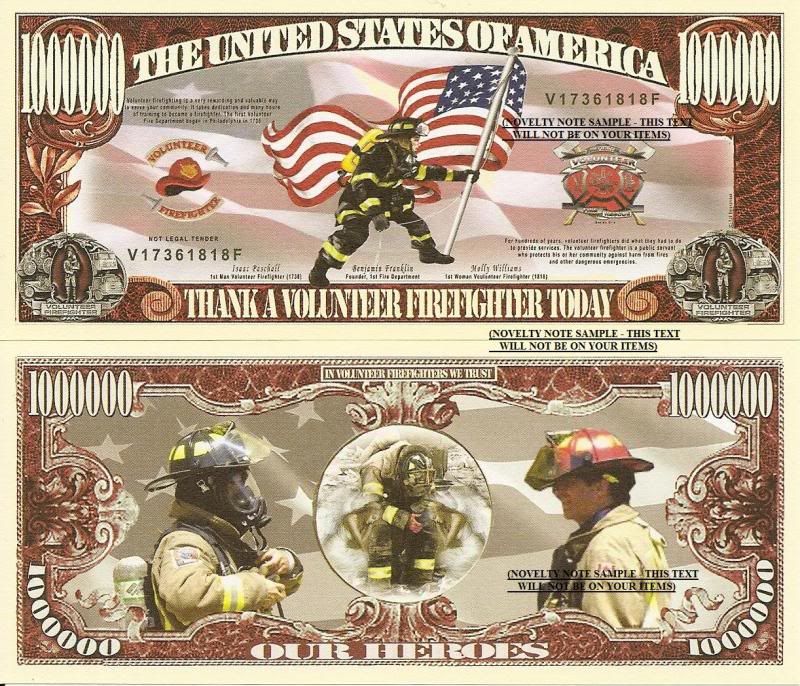 FOUR THANK A VOLUNTEER FIREFIGHTER TODAY One Million Dollar Bills
Great care and attention to detail make these Bill's a HIGH QUALITY COLLECTABLE. They are also excellent novelty gifts. Perfect for framing or including with Greetings Cards.
The front of the Bill pictures a Volunteer Fire Fighter holding the Stars and Stripes flag. The Bills are numbered V17361818F. The following is also printed on the front
Volunteer firefighting is a very rewarding and valuable way to serve your community, it takes dedication and many hours of training to become a firefighter. The first Volunteer Fire Department began in Philadelphia in 1736.
For hundreds of years, volunteer firefighters did what they had to do to provide services. The volunteer firefighter is a public servant who protects his of her community against harm from fires and other dangerous emergencies.
Benjamin Franklin - Founder, 1st Fire Department
Isaac Paschall - 1st Man Volunteer Firefighter (1736)
Molly Williams - 1st Woman Volunteer Firefighter (1818)
The back of the Bills picture Volunteer Firefighters at work and has IN VOLUNTEER FIREFIGHTERS WE TRUST printed along the top and OUR HEROES printed along the bottom.
Some of the printing on the Bill is clear but small, so you will probably need a magnifying glass to read all the information.
The Bills are the same size as real American dollars and have quality printing on quality paper. They look great framed.
UK See below for postage details. I accept payment by PayPal, Cheque or Postal Order.
EUROPE See below for shipping details. I accept payment by PayPal in GBP£.
REST OF WORLD See below for shipping details. I accept payment by PayPal in GBP£.