Homeopathic & Herbal Remedies
Sytrinol- 30 Softgels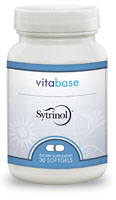 If you have ANY questions about any of the herbal products I sell, just ask. Your health is precious and you have a right to know about the many alternative options that are out there. Browse through all the herbal products I'm selling on CQout before deciding on which one(s) you want to purchase.
~*~*~*~*~*~*~*~*~*~*~*
I really would prefer if you pay with paypal. I am an established seller. Click on the button below to view my feedback at all of the auction/merchant sites and feel better knowing who you are dealing with.
~*~*~*~*~*~*~*~*~*~*~*
Quantity:30 Softgels
Description:
Sytrinol is a new supplement that is highly effective in controlling cholesterol. It contains palm and citrus fruit extracts and has tocotrienols and polymethoxylated flavones. It has anti-inflammatory as well as antioxidant properties that decrease the chances for developiong cardiovascular disease.
Flavonoids are natural elements that are found in vegetables and fruits. Polymethoxylated flavones (PMF's) are a type of flavonoid that has demonstrated cardiovascular system benefits, a new system, as well as anti-cancer benefits.
Sytrinol has two PMF's, tangetin and nobiletin, which protect the cardiovascular system and reduce inflammation.
Another major element of Sytrinol is tocotrienols.These compounds are a part of the Vitamin E family and help limit the enzyme that produces cholesterol. Medical trials have shown that supplementing with Sytrinol results in a significant total cholesterol improvement, as well as an improvement in triglyceride and LDL cholesterol levels.
Serving Size:1 Softgel(s)
Suggested Use:One or two softgels daily, as a dietary supplement.
Cautionary Note:Not recommended for pregnant or lactating women.
About Shipping:

Shipping is a flat rate of $4.50 for USA customers and $16 for international customers. You can purchase any amount of herbal products I'm selling on CQout and the shipping will only be $4.50 if you're in the USA or $16 everywhere else. The CQout site is not set up to recognize 'combined shipping'. You can wait until I send you the Paypal invoice if you're purchasing more than one herbal product from me.
Please note that there is no return or refund for any of the herbal products I'm selling on CQout.