Health- Vitamins & Supplements
Nettle Leaf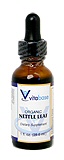 If you have ANY questions about any of the herbal products I sell, just ask. Your health is precious and you have a right to know about the many alternative options that are out there. Browse through all the herbal products I'm selling on CQout before deciding on which one(s) you want to purchase.
~*~*~*~*~*~*~*~*~*~*~*
I really would prefer if you pay with paypal. I am an established seller. Click on the button below to view my feedback at all of the auction/merchant sites and feel better knowing who you are dealing with.
~*~*~*~*~*~*~*~*~*~*~*
Quantity:1 fl. oz. (29.6 ml)
Description:
Stinging nettles have been used for decades for their health benefits. It has been typically used as a diuretic, including other internal uses. It was also used external for stimulation. Recently, nettles are used to offer relief from several different health issues.
Today, it is popularly used to help treat urinary problems that are associated with an enlarged prostate (benign prostatic hyperplasia ). Often, it is used in conjunction with saw palmetto in order to help with the constant urge to urinate, post-urination dripping and reduced urinary flow. The nettle has also been used to address urinary tract infections and may also help to prevent kidney stones.
For allergy sufferers, the stinging nettle may prove to be beneficial in minimizing hay fever symptoms. Studies have also demonstrated that the nettle may be beneficial for those suffering from osteoarthritis, especially when it is used in conjunction with anti-inflammatory medications.
Serving Size:1 ml
Suggested Use:For use as a dietary supplement, adults take 35-40 drops (1/2 dropperful) in liquid one (1) to three (3) times a day, or as needed. Shake well before using.
What's on the Label:
Nettle (leaf),(dried)** *
Cautionary Note:Keep out of reach of children.
About Shipping:

Shipping is a flat rate of $4.50 for USA customers and $16 for international customers. You can purchase any amount of herbal products I'm selling on CQout and the shipping will only be $4.50 if you're in the USA or $16 everywhere else. The CQout site is not set up to recognize 'combined shipping'. You can wait until I send you the Paypal invoice if you're purchasing more than one herbal product from me.
Please note that there is no return or refund for any of the herbal products I'm selling on CQout.